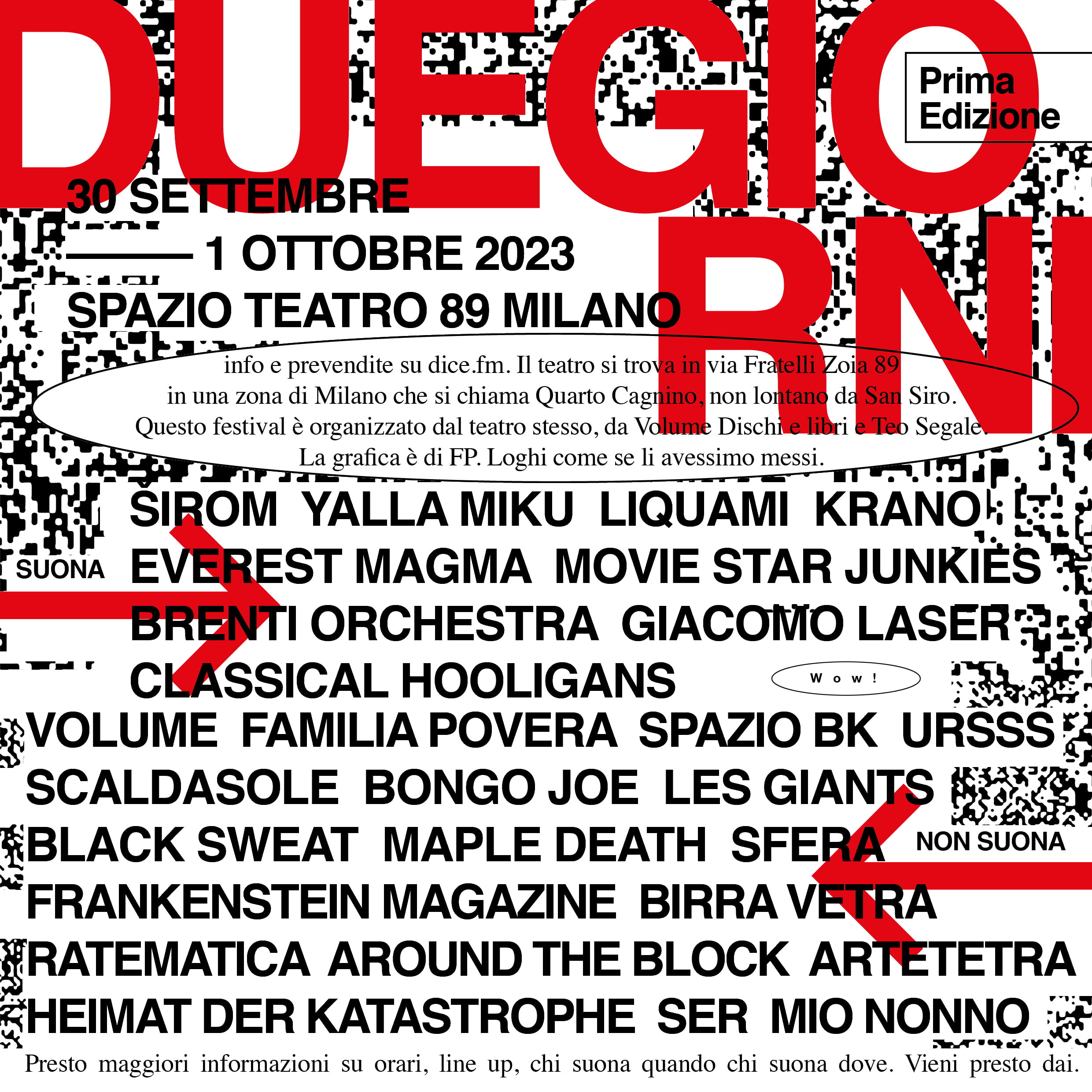 SABATO 30 SETTEMBRE
DOMENICA 1 OTTOBRE
DUE GIORNI – una specie di festival.
SPAZIO TEATRO 89
Via Fratelli Zoia 89 – Milano
Prevendite aperte su DICE.FM
La collaborazione fra Volume e Spazio Teatro 89 inaugura la propria seconda stagione con un piccolo festival, che si chiama DUE GIORNI, Sabato 30 Settembre e 1 Ottobre: tutto l'impegno profuso è andato nel scegliere e invitare gruppi e partecipanti, evidentemente non nel nome della manifestazione (che parola bellissima: manifestiamoci). Nove artisti, più di quindici amici che porteranno dischi, vestiti, libri e birre, sicuramente qualche sorpresa, sicuramente qualche imprevisto. Nessuna gerarchia, nessun "running order": vieni presto, vedi tutti, parla con tutti.
Il Sabato comincerà intorno alle 16 e prevede quattro concerti molto, molto speciali, in ordine sparso. Ci sarà Krano, il loner veneto maestro della rarefazione (e della scrittura), che porterà in dono con il suo gruppo il fantasma di un noir nord-orientale, e a contrastare (completare?) tanta malinconia l'incredibile jazz big band acustica Brenti Orchestra. Creatura singolare del jazzista Alessandro Cau, è un ensemble mutaforma che atterra in ogni luogo con musicisti differenti: la migliore delle scuse per vedersi e raccontarsi. E poi c'è anche un debutto assoluto, quello dei Liquami, che sono Tommaso, Giacomo, Luca, Jacopo, e Marco. Non hanno mai suonato prima dal vivo, anche se li avete visti farlo separatamente tante volte se siete andati a vedere Fine Before You Came, Generic Animal, Any Other, Asino, Dummo o Verme. Tutti insieme lo faranno stasera – un po' cacofonia un po' ninnananna, tutta sorpresa. Il quarto gruppo del Sabato saranno i Movie Star Junkies, una Festa di Compleanno che è un po' scappata di mano, qualcuno si è fatto male ma questo non è un buon motivo per smettere di suonare. Punk? Sì. Blues? Pure.
La Domenica si comincia prima: intorno alle 15.00, per non finire tardi.
La primissima parte del pomeriggio sarà affidata a Classical Hooligans, duo di selecter di musica classica che per la prima volta avranno l'onore e le responsabilità di aprire al pubblico la Fonoteca pubblica di Spazio Teatro 89: oltre 5mila dischi disponibili per consultazione e ascolto. Per confonderci le idee, due one-man-band che più diverse non potrebbero essere: Everest Magma e Giacomo Laser. Il primo con il più recente album Alto/Piano ha regalato uno dei dischi più intensi e stranianti degli ultimi anni, fra folk acidissimo, psichedelia, ambient e l'eccentricità del minimalismo italiano degli anni '70. Giacomo Laser interromperà invece la propria carriera dal vivo il 30 Settembre 2023 da qualche parte nelle Marche, per concentrarsi sulla reunion -con se stesso- a partire dall 1° Ottobre: prima data del nuovo tour, oggi. Nessuno, sicuramente neanche lui, sa cosa verrà a "suonare". Ci sarà spazio anche per due gruppi dall'estero, nella nostra DUE GIORNI: finalmente riporteremo a Milano gli sloveni Širom, trio sloveno di folk immaginario, estremamente locale ed estremamente globale. Il loro più recente album The Liquified Throne of Simplicity ha brillato nelle classifiche di fine anno del 2022 e finalmente possiamo ascoltarlo dal vivo. Dal meglio del 2022 al meglio del 2023: il debutto omonimo di Yalla Miku è sfacciatissimo e convintissimo nel mischiare musiche tradizionali di Africa Orientale e Settentrionale con krautrock, post-punk ed elettronica: uno degli album più energizzanti e puramente creativi di quest'anno.
Siccome più siamo, più ci divertiamo, ecco anche la lunga (e in allungamento) lista di amici che porteranno le cose che fanno, pubblicano o rimettono in circolo:
VOLUME / FAMILIA POVERA / SPAZIO BK / SCALDASOLE BOOKS /
BONGO JOE / LES GIANTS / BLACKSWEAT / MAPLE DEATH / ARTETETRA / HEIMAT DER KATASTROPHE / SER / FRANKENSTEIN MAGAZINE / AROUND THE BLOCK / RATEMATICA / MURALESTREMO / SFERA / BIRRA VETRA / URSSS / MIO NONNO
Infine, DUE GIORNI non è dedicato solo agli adulti. Grazie al neonato progetto SFERA sono in programma anche attività per bambini: musica, movimento e teatro per i più piccoli.

Siamo inoltre certi che accadranno delle sorprese: ma essendo tali, non potremmo dirvele nemmeno se le conoscessimo.
Vuoi chiederci qualcosa?
[email protected]
__________________
___________________
DOVE DORMIRE? se arrivate da fuori Milano, ecco qualche link di posti fidati dove potete fermarvi a due passi dallo Spazio Teatro 89:
https://sansiro.ideahotel.it/it/